Temporary Fencing
Temporary Fencing is an ideal solution for outdoor sites which require security on a short-term or medium-term basis.
Used as a temporary security system, it is a popular choice for many locations across the UK.
Temporary Fencing is a highly dependable security fencing system and can be used again and again to protect your property and equipment, as well as keeping passing pedestrians safe.
Temporary fencing, Fence panels are commonly constructed of weld mesh.
Temporary fencing is an alternative to its permanent counterpart when a fence is required on an interim basis when needed for storage, public safety or security, crowd control, or theft deterrence.
Temporary fencing is also often seen at special outdoor events, parking lots, and emergency/disaster relief sites. It offers the benefits of affordability and flexibility.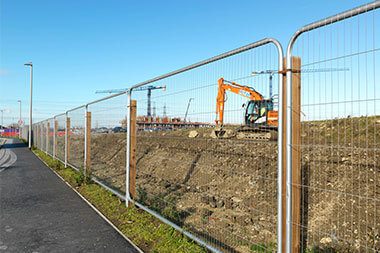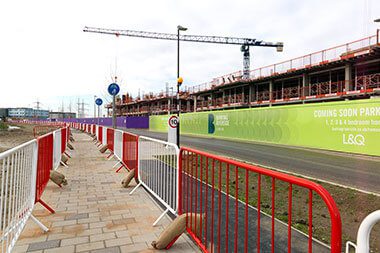 Crowd control barriers are commonly used at many public events. They are frequently visible at sporting events, parades, political rallies, demonstrations, and outdoor festivals. Event organizers, venue managers, and security personnel use barricades as part of their crowd management planning.
Crowd control barriers act as a physical and psychological barrier, used to demarcate "no access" zones, and to designate space for lines. They are also used by riot police to control large gatherings.
.
Front Line Accoustic
Our acoustic barriers and enclosures provide temporary superior noise reduction for construction sites
Genwork leads the way in temporary acoustic noise barrier solutions, thanks to our unrivalled acoustic knowledge and experience. We take a scientific approach to product design, and continually focus on innovation, quality and technical support. We also take our corporate responsibilities seriously. We're at the forefront of protecting workers and communities from the damaging effects of noise, and make sure we minimise the carbon footprint of our operations.
 Fully certified to BS EN Standards for acoustic performance via independent testing, We represent some of the highest attenuating temporary noise control products available.
our flexible, easy-to-install temporary acoustic barrier solutions are suited to practically any worksite. We specialise in the sectors Construction, Demolition, Road, Rail, Utilities, Events, Power, Mining, but work with companies across many fields. So whatever noise issues you face, please get in touch.